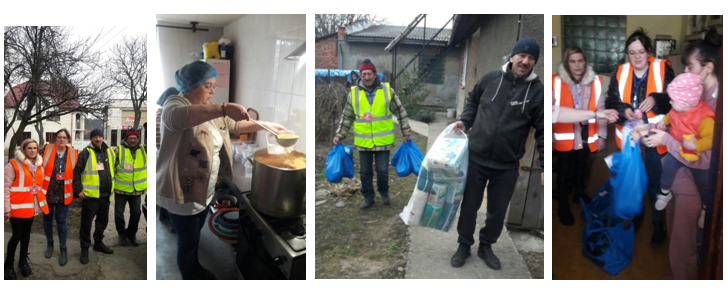 "Have no cares; but in everything with prayer and praise put your requests before God." (Philippians 4:6)
With this New Testament verb in their hearts the staff of our caritas helped in Solotvina, along the Romanian border.
Members of the "Holy Family" Caritas group actively extended a helping hand to refugees from dangerous spots in Ukraine. They cooked a delicious, hot lunch and prepared food packages. The children were delighted with sweets and the mothers with hygiene products.
The day of the "St. Elizabeth" Caritas group in Munkács was spent in the rhythm of the slogan "Pray and work". They set off on two stuffed minibuses to Rativci, where, in cooperation with the municipality and the Reformed Church, they brought food, detergents, clothes, toys, diapers and blankets to the local kindergarten, where 30 refugees from Kiev and Kharkov are currently living.
The nursing home in Galoch was also set off (we mentioned in our previous report that there were also refugee families) where four beds and other utensils were needed. Our fellow human beings are grateful and happy to help. One of them was driving during the transport, and their strong hands came in handy when packing.